Haryana Government to Hand over Land to Connect Dwarka expressway with CPR by January-End
Haryana Shahari Vikas Pradhikaran (HSVP) — formerly known as Huda — is all set to hand over the final stretch of land required to build the Dwarka Expressway to National Highways Authority of India (NHAI).
Sources revealed the piece of land is located at the culvert where Dwarka Expressway is set to connect with the connecting peripheral road CPR, and will be handed over to NHAI by month-end.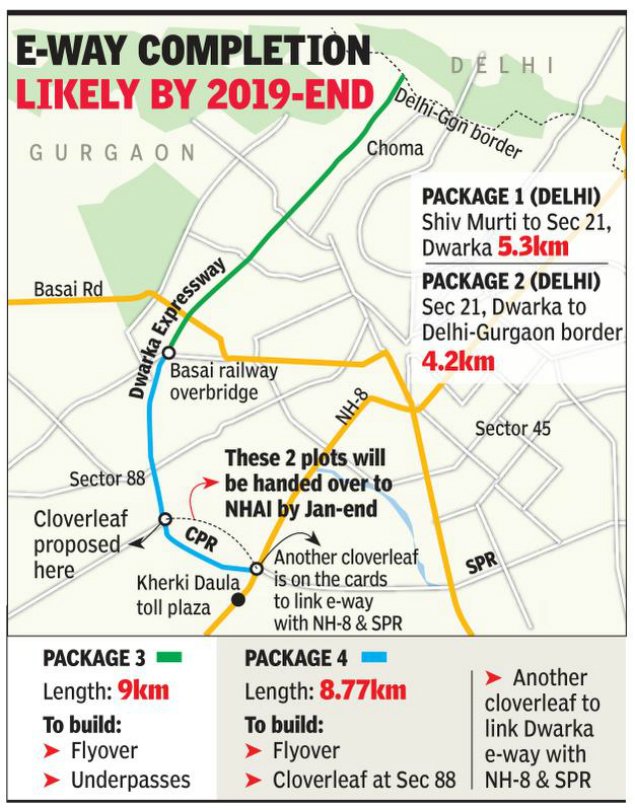 On Friday, HSVP and NHAI conducted a joint survey of the land where a cloverleaf is proposed. This cloverleaf will be the merging point for Dwarka expressway and CPR, to look for any remaining encroachments or obstacles, which would have to be removed by HSVP. Gurugram HSVP administrator Chandrashekhar Khare told TOI, "It will take 2-3 days for us to prepare a final report on the position of the land, after which we will begin transfer formalities."
Another 40m stretch near Kherki Daula has been cleared by HSVP for Dwarka Expressway. Officials from HSVP's engineering wing have also started work to level the road before it can be handed over to NHAI. Notably, there were around 22 structures along the alignment of the road, whose owners have already been given alternative plots and asked to move out. However, only three structures had been vacated so far, so HSVP razed the rest.
So far, a 10.2km-long stretch of land for the expressway has been handed over to NHAI. The 18km-long Dwarka Expressway is being constructed at a budget of Rs 7,200 crore, over four phases, two of which are completed. Phases 3 and 4 are to be built at a cost of Rs 1,333 crore and Rs 1,047 crore, respectively.
Huda had allotted alternative plots to the oustees in the last week of December 2018 in Sector 37C. Once the road is constructed here, Dwarka Expressway will be connected to the Delhi-Jaipur expressway, leading to better connectivity for the city's residents.
Currently, motorists have to travel through Kherki Daula village to reach NH-8.
Meanwhile, NHAI has turned down HSVP's request to remove a wall between Kherki Daula and Dwarka Expressway, citing technical and legal reasons. NHAI said the Union ministry of road transport and highways has disallowed a surface-level connection between Dwarka Expressway and southern peripheral road (SPR). Instead, a cloverleaf will be built here by NHAI.
Dwarka Expressway was announced in 2007, but the work gathered speed only around 2016, when the project was handed over to NHAI. Since then, multiple deadlines have been announced for the project, the latest being 2019-end.
Source : TOI