Gurugram: Two km road to come up near sectors 79 and 79B
The Gurugram Metropolitan Development Authority (GMDA) has floated an Rs 8.19 crore tender for a 2,100m road project on the outskirts of sectors 79-79B and Naurangpur. The road will ease the movement of heavy vehicles in the area and make commuting easier for residents of sectors 79-79B.
The road will start near the pond close to the Aravaleshwar Mahadev temple and end near Jai Bharti Public School, according to GMDA officials. The project includes a 1,400m-long roadside drain, the officials said.
"The land demarcation and possession documents have been received. It will take six months to complete the work," said Major Shaveta Sharma, executive engineer, Infra I, GMDA.
At present, the GMDA is seeking online bids for the project through e-tendering. The defect liability and maintenance period of the project is four years.
There is another road in the area from Rampura chowk to Naurangpur. "But this road is owned by the Public Works and Development (PWD) department and is only 5.5 metres wide. The new alignment will have a width of 84 metres," said Sharma.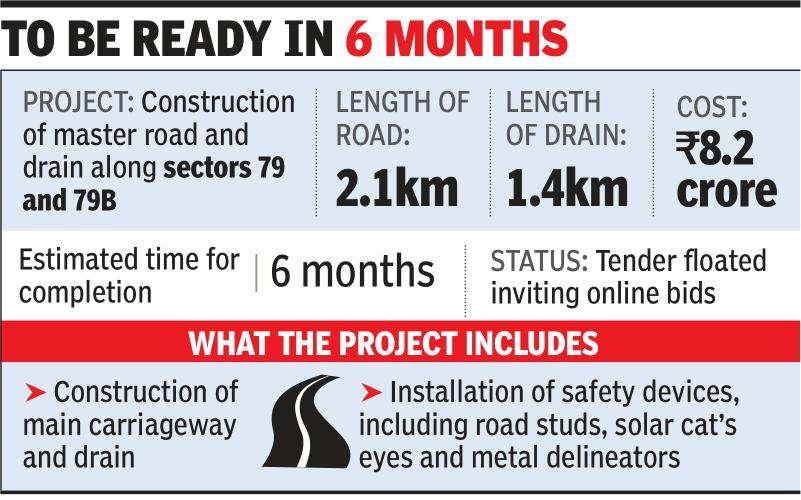 GMDA has planned the project in line with the demands of residents and developers in the area, Sharma said. According to residents and developers of Naurangpur and sectors 79-79B, the PWD road is not sturdy enough for the heavy vehicles that pass through the area. "It is very bumpy and difficult to use. One option is to revamp the existing road but we have already acquired land for the new road. We decided there was no point in compromising on the width of the road. Our aim is to give maximum advantage to the commuter," said Sharma.
According to GMDA officials, the project includes the installation of road safety devices such as road studs, solar cat eyes, metal delineators, hazard markers, flexible median markers, and flexible spring posts.
Source : TOI