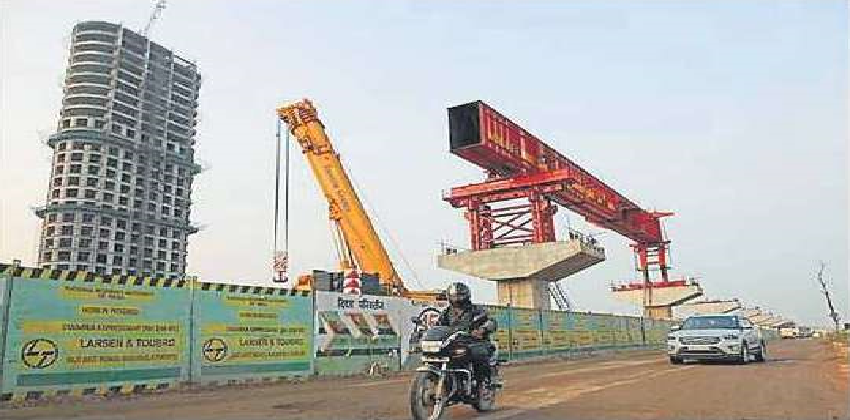 First Bridge Girder Placed for Dwarka Expressway Project
The first bridge girder (a bridge that uses girders to support its deck) to construct a 15km elevated road in Gurugram was put up by Larsen & Toubro (L&T) as part of the Dwarka Expressway project at Sector 110 on Friday night. Till now, the NHAI contractor has completed 30% of the work in the Gurugram section.
RK Mishra, project director, L&T, said, "On Friday night, the first bridge girder was placed near Palam Vihar. Our work is progressing well." The Dwarka Expressway project has been divided into four packages, two of which lie in Delhi. The NHAI contractor has two packages—package 3 (Haryana border to Basai railway overbridge) and package 4 (Basai railway overbridge to CPR/SPR/NH-8 junction)—under its jurisdiction.
For the two packages in Gurugram, the contractor finished soil testing in January. Currently, pillars are being constructed for the 15km elevated road. "We have put up 67 pillars in package 3 and 71 in package 4," Singh added. According to officials, all streetlights that are a part of this project will be solar.
The NHAI has also planned the constriction of underpasses for the safe passage of vehicles at traffic crossings under the elevated road and L&T will construct the same. Package 3 is being made at a cost of ?1,334 crore and package 4 at a cost of ?1,046 crore. "We will also be making a service road along the 15km elevated road. For the first time, there will be a service lane will be at an elevated stretch," a senior L&T official said.
To bring relief to thousands of commuters who want to skip the Kherki-Daula toll plaza, in package 4, the NHAI is building a four-sided cloverleaf elevated road near the Kherki-Daula toll plaza, which will enable commuters on the Dwarka Expressway to head towards the southern peripheral road (SPR) without any hindrance. "The cloverleaf elevated road is being made to provide connectivity for new sector residents (sectors 79-113). Commuters can easily take the road a few metres from the Kherki-Daula toll plaza and to reach their homes," a senior NHAI officials.
Source : Ht